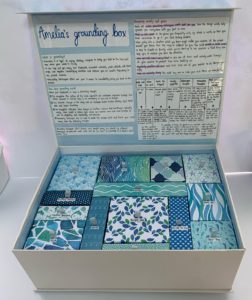 NEW WEBSITE:
https://groundingbox.square.site/
Grounding boxes
These grounding boxes (also known as self soothe or emergency boxes) are like an emotional first aid kit.
They're filled with things to help you feel better during difficult times. For example they contain loads of distraction activities and sensory tools as well as lots of handwritten information about the grounding techniques.

Often when we feel anxious, angry, sad or distressed, it is difficult to think rationally and to decide how to help ourselves, which may result in using self destructive coping mechanisms. Keep this box in a handy place so that when you're feeling distressed you can find something positive to help you cope. Practice these coping strategies regularly so that when you are struggling you will know the strategies that work for you and can help instantly.

These boxes are suitable for anyone and would make an amazing gift.
Each box is unique and handmade to order.
They can also be personalised at no extra cost.
There's a very limited amount of boxes available so it will be first come first serve.
Pricing:
The boxes are £60 plus £8.99 postage.
For more details visit:
https://groundingbox.square.site/
Restored
Jess developed and set-up the charity I*EAT (now called Restored). The charity started out as a drop-in and support group at Bournemouth University and developed into a comprehensive, proficient and caring treatment service for those suffering with a variety of eating disorders. Jess was responsible for training and managing staff and volunteers as well as fundraising and partnering with other organisations such as Bournemouth University and Dorset Health Care Foundation Trust.
Jess established the charity with the unique ethos of recruiting staff with lived experience of recovering from an eating disorder, creating an environment where people feel safe and are able to admit that they need help to start their own recovery journey.For more information on the charity that Jess set-up please visit Restored.
One of the outcomes of the charity being based in Bournemouth University was that Dorset HealthCare University Foundation Trust recognised that they needed an eating disorders therapist to travel out to the University medical centre every week. This ensured that students were being referred more rapidly for specialist services and accessing the support they needed more easily.
"I realised my eating had become a problem when I went to visit home for a few days. My parents were really worried and said I looked too thin. I had seen lots of posters in the toilets around uni advertising the drop in sessions at the Talbot Centre so I went to see them. They let me talk about how I felt and it really helped to get everything out in the open. They helped me to see that my eating habits were not 'normal' and that I needed help. I went to see my doctor who referred me to Kimmeridge Court. I was then assessed and was allocated counselling every week at the university.

Counselling really helped me to rationalise my thoughts and feelings and was a major factor in my recovery. I was also given a full body scan at Kimmeridge Court, which made me see how my body needed to recover. It took around a year and a half to feel fully better but I honestly believe a full recovery is possible. I can now exercise and eat normally and do it in a healthy way."

Charlotte (Service User)
MotivATE – Bournemouth University
Part of the support received at the Charity is attending 8 weekly sessions with a mentor. The idea behind these sessions was adapted from the recovering group that is currently delivered at Kimmeridge Court Eating Disorder Service.
Bournemouth University and Dorset Healthcare NHS Trust Eating Disorder Service recognised that the charity was achieving very good rates of attendance for assessments. They wanted to explore ways that the NHS could encourage people to attend their assessment after being referred by their GP. Currently, Jess is helping to develop a website called MotivATE which is a series of 4 modules looking at various aspects of recovery from an eating disorders and helping individuals understand what their assessment will be like. If you would like to contribute any stories to the website please get in touch with Jess.
Schools Work
Jess is able to provide age appropriate PSHE sessions on Self Esteem, Healthy Eating, Body Image and Eating Disorders. She is able to teach primary and secondary school aged children and adapt the session content to meet the needs of a specific peer group.